Ontwikkelaar: RenovatiO
Uitgever: Sunrise
Jaar: 2007
Product ID: -
Medium: 4 Mbit MegaROM cartridge
Geluid: PSG / SCC
A relative new MSX game is Manbow 2. Some issues delayed the release of this extreme project. The game was announced somewhere 2005/2006 already, but it took almost two years before it was released at the 2007 MSX fair in Bussum, The Netherlands. The game was a lot of code work, but next to that I don't know the reason of the delay. What I do know is, that the project was part of different developmentgroups. Just some people of these groups where actual involved in the project, information tells Norakomi has been the main programmer of this game. Ofcourse had some help and advice from others, but from what I have heard he is responsible for most of the coding of this game. At that time there were stories the person had sympthoms of rheumatism because of all the coding.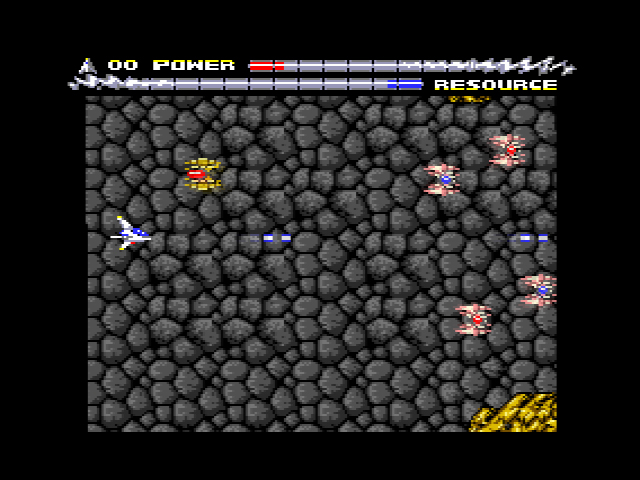 As you see the game, I can imagine that. It is a marvellous MSX2 game and there has been a lot of attention for details in the graphics. And although it is not an official follow up of Konami's Space Manbow, I would say it would have been worth to have that title. Everything is perfect; the cool intro, the outstanding graphics, many very great horizontal and vertical levels, good music etc. etc. It could have been an official released game of begin nineties. A very beautiful MSX game!
The price € 27,50 is a bit high, but when you see the game you know it is worth that money. A high quallity game with lot of hours gaming fun. The packaging is also good looking (although it has a strange size/ format). The only thing that could have been better is the bad colour copied manual which is poor to see. Maybe it is because I work in the graphic industry, but I like the 'real' printed single colour manuals from the matra games even more for example.
I did not manage to finish this game yet (didn't quiet found time for it). Especially when you reach the higher levels you will notice it is a hard game to play. But on the otherhand this is something I like, because it gives you ever lasting playing pleasure. Every time you play, you see progression.
I don't know if the Manbow 2 game is still for sale. But if it is, you probably can buy it from the Sunrise Foundation (every year they are present on the MSX Nijmegen fair).