Developper: Kralizec
Publisher: MSX Cartridge Shop
Year: 2010
Product ID: KR2BG220
Medium: 4 Mbit MegaROM cartridge
Sound: PSG / SCC
A recent released game I want to review here is Kralizec's The Goonies 'R' Good Enough. It is not a remake of the Konami game The Goonies. The Goonies 'R' Good Enough is a whole new game based on the well known 80's movie. Ofcourse known elements from the movie as used in the Konami game are in it, like falling rocks, waterfalls etc. The soundtrack of the movie also returns, this time you can hear it in SCC quallity.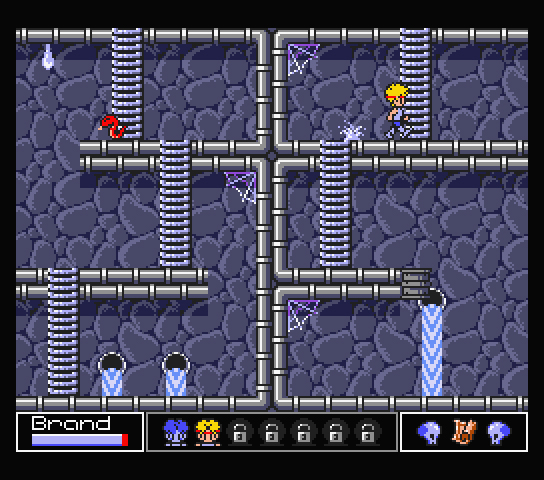 The people who developped this game put a lot of effort in making this game. It has a nice package, very beautiful graphics, a good game play, very good sound/music and next to that it's a very cool game to play.
The cartridge has a MSX1 and MSX2 version on it, and when you play it on a MSX2+ or Turbo-R you get to see a lot of extra's, like digitized screenshots of the actual movie.
I think the price of the game is too high. It costs € 35,- and that's more money than avarrage of other new MSX games released. Although this is a very beautiful and high quallity game, I still think it's way too much for just 'only' six levels.
Still I think Krazilec's The Goonies 'R' Good Enough is a very good game and it is definately a game I would recommend to everyone. This game has to be in your MSX game collection!
Ofcourse I have finished The Goonies 'R' Good Enough MSX game. Here by I give you the passwords I got each level;
Scene 1: NIKESHOES
Scene 2: CYNDI85
Scene 3: LOUGERIG
Scene 4: MARBLEBAG
Scene 5: TROYSBUCKET
Scene 6: BABYRUTH
You can buy the The Goonies 'R' Good Enough cartridge online at the: MSX Cartridge Shop