Developper: Revival Studios
Publisher: Revival Studios
Year: 2012
Product ID: RS-MSX001
Medium: ROM cartridge
Sound: PSG
The release of this new MSX/MSX2 game was at the MSX fair in Nijmegen (The Netherlands) at January 2013. Creator Martijn Wenting is a Z80 programmer. Next to MSX games he develops games for other retro platforms as well. His first MSX game is a game called Astrododge and is released in own management / Revival Studios.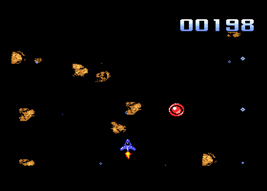 The game concept is very simple; You control an airplane / spacecraft and you have to avoid the astroids passing by. The more astroids you avoid and the more distance you make, the higher the score. You get extra 100 points by catching the coloured buttons which pass.
The game is both for MSX1 as MSX2. The Graphics for MSX2 are more colourful. Very beautiful are the rotating astroids on MSX2. The game has in addition to the single player mode there is also a two player / versus mode. Nice aspect of the game is that you get a password together with the made highscore. This highscore you can submit on internet. So actually you are playing competitive together with all other MSX users worldwide. Like I wrote on the MSX Resource Centre forum; The competition and game is on!
Because of the simple game concept you'd expect this game to become borring, but that is definately not true. The difficulty of the game and the possibility to upload your highscore on the internet make this game very exciting and addictive.
The game is expensive; € 29,-, but since this is the first game of Revival Studios in own management and with own resources, I would say this is 100% o.k. For this money you get a fun game with all aspects taken care off (fine quallity cartridge, nice cover art, solid plastic packaging etc.). Good work. Excellent!