Ontw.: RAY2DAY MSX SOFTWARE
Publ.: RAY2DAY MSX SOFTWARE
Year: 2020
Product ID: R2D002
Medium: 16KB ROM cartridge
Sound: PSG
Litter Box is my second finnished game for MSX. It's a maze game like Pacman and Lady Bug.
Although I am slowly learning assembley, this time I went back to the roots of my programming: MSX-BASIC. Goal of this project was to code a good looking and fun maze gaem between the limits of MSX-BASIC.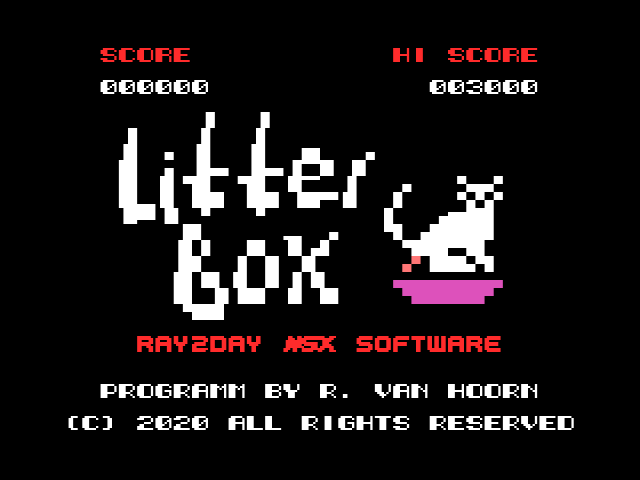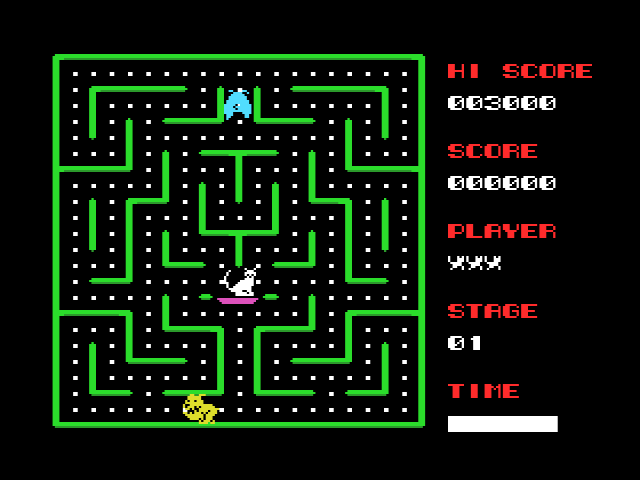 The basic of the game itself I had programmed very quickly. Improving the code and smoothening everythink took me some extra days of programming. I am very very satisfied with result. The game is well received in the MSX scene.
You can download Litter Box as freeware from the MSX Dev '20 website.
-> P L A Y _ L I T T E R _ B O X _ O N L I N E tru File-Hunter on WebMSX - CLICK HERE! <-
(C) COPYRIGHT RAYMOND VAN HOORN / RAY2DAY MSX SOFTWARE